Join us for a complimentary, 1-hour live webinar with Q&A. Earn 1.0 SNMMI VOICE A CE credit.
IAC Nuclear/PET will present a live webinar (followed by a Q&A session) entitled IAC Nuclear/PET: Reaccreditation Simplified.
This webinar is intended for IAC Nuclear/PET accredited facilities due to reapply and is designed to update you on:
IAC Nuclear/PET program changes
Common pitfalls experienced by facilities seeking reaccreditation
Resources to help you earn IAC accreditation
Participation in this IAC webinar is voluntary. In addition, registered participants will receive 1.0 SNMMI VOICE A CE credit. Please Note: To be eligible to receive the credit, participants must: 1) individually register, 2) log in to attend the live event, and 3) complete the post-webinar survey. If you have questions regarding this webinar, e-mail webinars@intersocietal.org.
Speaker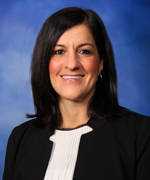 Maria Costello, MBA, CNMT, NCT
Lead Clinical Director / Director of Accreditation - IAC Nuclear/PET