Created to help your facility employ and document continuous process improvement, the IAC Quality Improvement (QI) Self-Assessment Tool provides a mechanism for facilities to meet the quality measures required by the IAC Standards.
Use of the IAC QI tool:
Allows facilities to self-assess their own imaging studies and reports;
Provides a data-driven, objective measure of QI progress for use in complying with the IAC Standards and Guidelines for Accreditation and fulfilling a variety of facility quality initiatives;
Helps facilities visually benchmark their findings and track their QI progress;
Creates a quantitative report that targets opportunities for improvements,
leading to enhanced patient care.
About the QI Analytics Feature
This feature has the capability to build reports from three different report types (QI Tool Usage – View number of cases reviewed within a certain period, displayed by case type; Case Quality – View the average quality of cases reviewed within a certain period, shown by QI measure; or Staff Agreement – View the agreement level of staff members during QI case reviews within a certain period, displayed by QI measure.);
the ability to hover over bar graphs to get more detailed information;
and data export options for reporting in excel, PDF or images.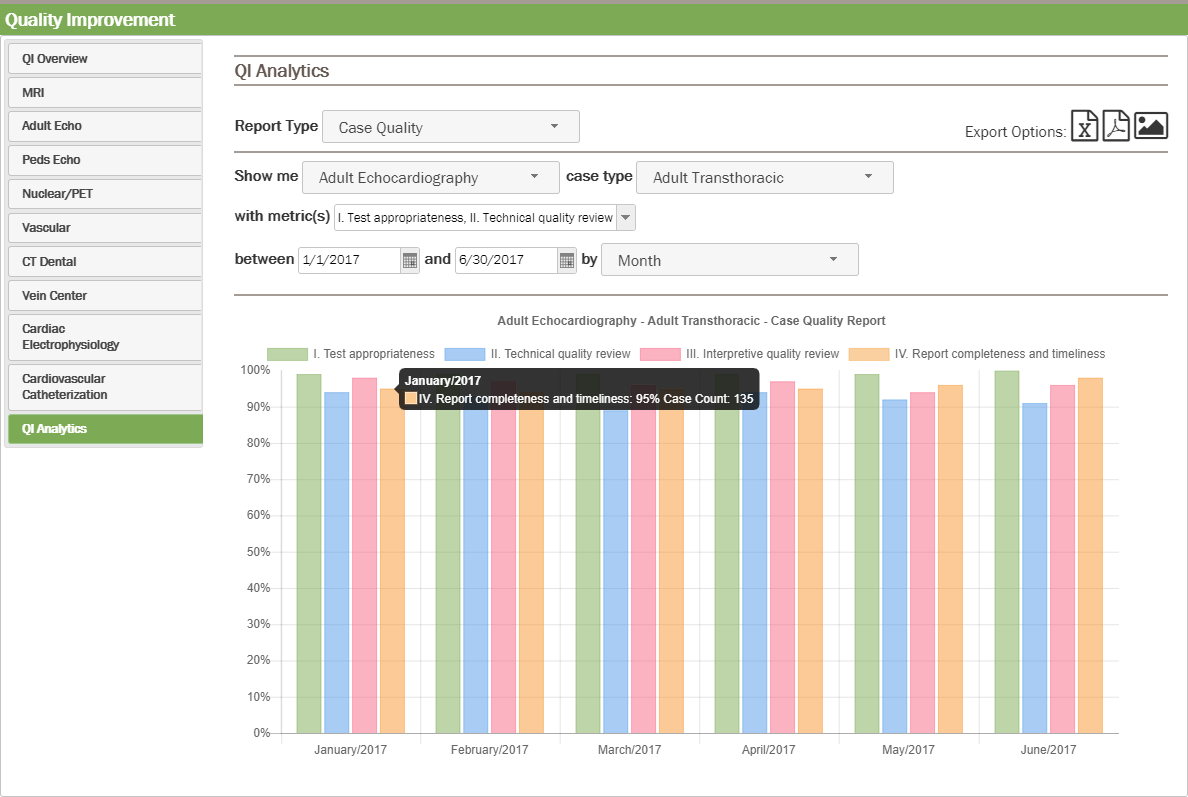 WATCH >> Visit IAC YouTube to view our complimentary tutorial webcast of the IAC QI Self-Assessment Tool.
This innovative feature of the IAC Online Accreditation application is not required to be used by facilities at this time.
However, the QI Self-Assessment process will closely resemble future required audits and therefore, participating facilities are encouraged to become familiar with the system at this stage through voluntary use.
Use of the IAC QI Tool may also be utilized as a Centers for Medicare & Medicaid Services (CMS) MIPS Improvement Activity to satisfy a component of the MIPS Improvement Activity score. Learn more
---
Getting Started:
To access the new IAC QI Tool:
Login to your Online Accreditation account
Click on the Quality Improvement tab from the top menu to launch the Quality Improvement (QI) Self-Assessment Tool
Don't have an IAC Online Accreditation account? Facilities that have never applied for accreditation in one of the IAC divisions and have never accessed an existing Online Accreditation account may create a new account. Create a new account
If you have questions regarding the presence of an existing account please contact the staff at 800-838-2110 or by e-mail.