As the IAC Research Program continues toward fulfilling its mission of Strengthening Accreditation Through Research which has been realized in terms of several published manuscripts and abstracts. Accredited facilities, as well as all stakeholders within the medical community, are encouraged to review the research being put forth in the published abstracts and manuscripts section.
Research Committee Members
Gary V. Heller, MD, PhD (Research Officer)
Sharath Subramanian, MD, FACC, FSCMR, FASE
Kevin Cockroft, MD, MSc
Tatjana Rundek, MD, PhD; RPVI
Scott D. Jerome, DO, FACC, FASNC
Leo Lopez, MD, FASE, FACC, FAAP
Mark Meissner, MD
John F. Beshai, MD, FHRS, FACC
Aimee K. Armstrong, MD, FAAP, FACC, FSCAI
Merri L. Bremer, EdD, RN, ACS, RDCS, FASE (QI Chair, Ex-Officio)
David Sacks, MD (IAC Board Chair)
Mary Lally, MS, CAE
Mary Beth Farrell, EdD, CNMT (IAC Director of Research)
Published Research Summary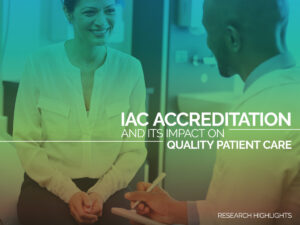 IAC Accreditation and Its Impact on Quality Patient Care, a compilation of research results across multiple modalities, provides compelling data. IAC accreditation leads to greater awareness of safety, standardization of processes, adherence to guidelines and most importantly, improved patient care. Download
Identifying research as a core strategy toward furthering its mission of Improving health care through accreditation®, the IAC began efforts to support innovative and meritorious research programs relevant to facility accreditation in 2012.
As part of that initiative, the IAC launched a major research effort into all aspects of accreditation with the expressed purpose to critically evaluate and improve the process with the establishment of the IAC Research Committee. The IAC Research Committee consists of a research officer and representation from each IAC division.
IAC is … Strengthening Accreditation Through Research
Watch the video above to hear IAC Research Officer Gary Heller, MD, PhD, discuss the importance of research to improving the accreditation process.
---
For questions about the IAC Research Program, please contact Mary Beth Farrell, MS, CNMT, NCT, FSNMTS, IAC Director of Research, at 800-838-2110 or e-mail research@intersocietal.org.