The IAC provides the following links and information for a patient looking to have a cardiac electrophysiology procedure.
Why are cardiac electrophysiology procedures performed?
Millions of people experience irregular heartbeats from time to time and live healthy lives free of heart disease; however, some individuals experience abnormal heart beats or arrhythmias, which may require them to undergo a cardiac electrophysiology procedure. Cardiac electrophysiology procedures may be appropriately performed for many indications related to the diagnosis and treatment of heart rhythm disorders.
There are three basic causes of rhythm disorders that can lead to the need for treatment: electrical, circulatory and structural. A change in the heart's electrical pathway may cause an irregular or erratic heartbeat. In the case of coronary artery disease, a lack of oxygenated blood circulating to the muscle of the heart may lead to muscle damage, poor heart function and a rhythm disorder. And finally, any change(s) to the normal structure of the heart, as would occur in individuals with cardiomyopathies or congenital heart disease, could result in a rhythm disorder.
Testing includes non-invasive and invasive diagnostic procedures that evaluate at patient's heart rhythm and are performed under the direction of cardiac electrophysiologists (physicians trained and credentialed in the field of cardiac electrophysiology).
Ablation is an invasive procedure to treat an abnormal heart rhythm. A specialized catheter is inserted into a patient's vein and is used to treat a damaged or injured area within the heart's electrical pathway.
Device implantation is an invasive procedures performed to regulate heart rate and rhythm. Pacemakers and Implantable Cardioverter Devices (ICD) are comprised of two basic components: a battery and wires (leads). The battery is inserted under the skin and the leads are connected to the heart. The battery is then programed to send electrical pulses to the tips of the leads, which stimulate the heart and regulate the heart rate and rhythm.
A left atrial appendage closure (LAAO) procedure uses a specialized device, which is placed by an board certified cardiologist, to close off the opening of the left atrial appendage. The left atrial appendage is found in the left atrium and can be a source of a thrombus or blood clot in patients with non-valvular atrial fibrillation. The device closes off the left atrial appendage to prevent blood clots from entering the systemic circulation.
A device clinic provides ongoing onsite and remote monitoring services for patients who have had a permanent pacemaker (PPM), implantable cardioverter-defibrillator (ICD), or implantable loop recorder (ILR) device implanted by a cardiac electrophysiologist. An accredited device clinic will be staffed by board certified cardiologists and registered nurses and technologists with specialized training in the monitoring and management of implantable cardiac devices.
---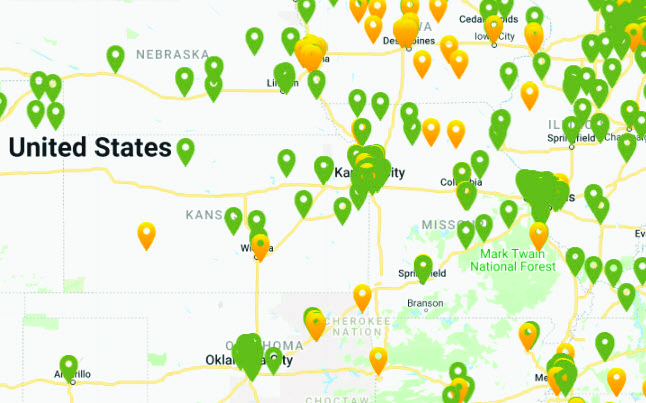 IAC offers an online tool to assist patients in locating an IAC-accredited facility. When scheduling a procedure, patients should research the accreditation status of the facility. To find an IAC Cardiac Electrophysiology accredited facility or hospital, visit the IAC Accredited Facility Locator and select Cardiac Electrophysiology under Modalities.
---
Resources for Patients
Heart Rhythm Society | UpBeat
UpBeat connects patients, caregivers, and health care professionals together to form a unified team. Wherever you are on your heart health journey, we're here to help connect you with the right team to get you on the right track. Learn more at UpBeat.org.
Pediatric & Congenital Electrophysiology Society (PACES)
Provides resources to help empower patients to better understand their rhythm disorders and seek care tailored to their individual needs. Learn more at pacesep.org/home-patients.
---
References: